The WholeLife Matrix
The Deep Dive into the WholeLife Matrix Course creates a bird's eye view of the road to success and happiness.
The WholeLife Matrix is Step 9 of my book 12 Steps to Success in BusinessLife  and also a bi-monthly live course conducted over the phone. Participation in the course is FREE.  I am currently offering the course free of charge so that coaching is available to everyone to use the momentum of a group to propel your results to the next level. Will you devote two hours a month to working with other like-minded individuals putting your thoughts into action?
This tool guides you to stability as you give time and attention to the key areas of life.
Click on each section to see details of each area.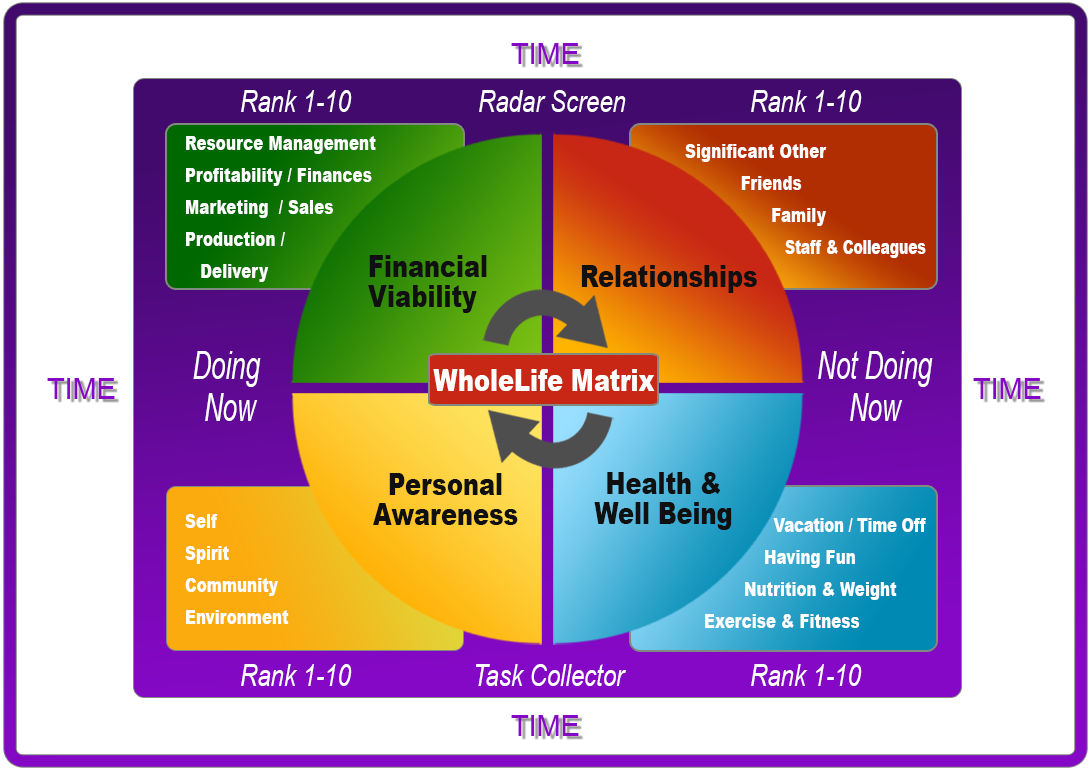 Each area of your life is covered bringing you more happiness, more success, deeper meaningful relationships and spiritual awareness.
Financial Viability
Resource Management
Profitability – Finances
Marketing – Sales
Production – Delivery
Relationships
Significant Other
Friends
Family
Staff and Colleagues
Personal Awareness
Self
Spirit
Community
Environment
Health and Wellbeing
Vacation
Time off
Having fun
Exercise and fitness
2021 Deep Dive Schedule
Calls are at 11 am to noon PST.   Use the button below to receive your invitation to join the calls.
January 12
January 26
February 9
February 23
March 9
March 23
April 6
April 20
May 4
May 18
June 1
June 15
June 29
July 13
July 27
August 10
August 24
September 7
September 21
October 5
October 19
November 2
November 16
November 30
December 14
Step 9 of 12 Steps to Success BusinessLife sets a solid foundation for all areas of your life. Each quadrant covers a section of your life.  
Financial Viability

Relationships

Health 

Well Being and Personal Awareness 
Step 9  – The WholeLife Matrix will walk you through each area to help you get your life in balance and is the foundation of our Deeper Dive course. 
Courses Offered
Possibilities Unlimited offers courses during the year.  Each are designed to help in areas of your business and life to help you over the bumps and propel you to your goals.  Get more details by clicking the courses below.