The SWOT analysis is a simple but powerful technique for evaluating the strengths, weaknesses, market opportunities, and threats related to your business. Through this analysis, you can discover important issues affecting your business and develop your goals and marketing strategy.
To begin the SWOT analysis, list the internal strengths and weaknesses of your business. Then list the external opportunities and threats. After making your lists, you can expand on each point. Here is an example of what your four SWOT analysis sections might look like: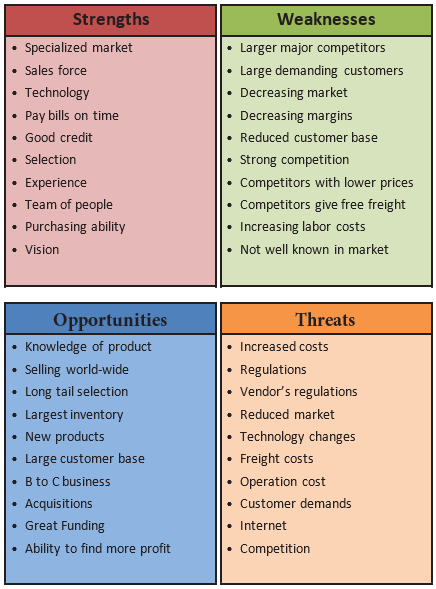 Strengths
The strengths of your business include elements that provide value to it or establish a competitive advantage. You can put your strengths into categories such as marketing, manufacturing, and finance. Identify the things that make your business unique and stand out from the competition. Your strengths can include tangible assets such as equipment and established customers. It can also include attributes of people who work in the business such as their skills, education, and reputation.
Weaknesses
Weaknesses in your business are things that you have control over that are not working and need to be improved in order to accomplish your marketing goals and to put you in a long-term competitive advantage. Some weaknesses may include limited resources, lack or expertise, outdated technology, and poor service or location.
Opportunities
What opportunities can your business benefit from in the market or environment? Consider whether the opportunity is an ongoing opportunity or a window of opportunity that you may need to seize quickly. Opportunities may come from changes such as growth or decline in the market or lifestyle changes.
Threats
Threats are factors outside of your control that can hurt your marketing or business so it is beneficial to identify them and create plans to deal with them. You can rate the seriousness and possibility of occurrence for each of the threats.  Some examples of threats include competition, supplier price increases, economic downturns, and changes in consumer behavior.
The SWOT analysis will allow you to take an objective look at your business and help it to become more efficient and profitable. It will help you to turn weaknesses into strengths and to make your current strengths even more effective.
---
Ralph White
Business Coach, Author, Artist & CEO
310.372.8538

|

Ralph@Consulting2Win.com
www.PossibilitiesUnlimited.com

|

Contact

Click here now to set up an appointment to talk to Ralph.
---