[leap_title strip="no"]Client Success Stories[/leap_title]
Kent Holtorf, MD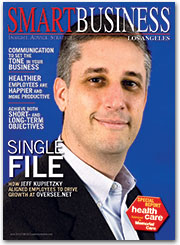 I was recently interviewed in Smart Business so I wanted to pass on the article (read the full article here). Thank you for providing me with the skill-set to be sought after for such an interview. As a doctor, I am passionate about medicine but had no management training and found the management side of running a busy practice to be very frustrating. It was one of the least enjoyable aspects of my job, and I did just enough management to allow the center to run.
Since then, you have provided me with solutions to problems that I thought were unfixable. Each week I look forward to another practical solution that not only saves time and money but also improves efficiency and employee (and patient) satisfaction. Before your coaching, I really did not know what I didn't know. With your coaching, we have been able to implemented systems that allow us to be able to launch centers across the county. I attribute much of our success to your steady guidance and direction. The possibilities really are unlimited.
Sincerely,
Kent Holtorf, MD
Kent Holtorf, MD
Vimbly

What Kayak provides for travelers, Vimbly provides for those seeking local classes and activities. Possibilites Unlimited client, Sam Lundin, developed Vimbly to provide New Yorkers a way to easily locate, schedule and book classes and activities.  Due to the overwhelming response in New York, and demand from other cities, the Vimbly movement has spread to Chicago, Los Angeles, Las Vegas, Seattle, Orlando and Maui and caught the attention of national media at the same time.  Watch for Vimbly to come to a city near you!
Sam Lundin
Vimbly
SuperD Success
Congratulations to long time Possibilities Unlimited client Super D Aquires Alliance Entertainment, which just completed a major acquisition of competitor Alliance Entertainment. "In a minnow-swallowing-a-whale like deal, Super D has acquired Alliance Entertainment in a move that will make it the fourth-largest U.S. music account behind iTunes, Amazon, and Anderson Merchandisers, which racks Walmart and Best Buy.  Super D, based in Irvine CA, has revenues of about $195 million, sources say,  and Alliance Entertainment, based in Coral Springs, FL, has revenues of about $725 million, which also makes the merged company the second largest wholesaler with combined revenues of about $920 million, behind Anderson Merchandisers.  By Billboard's estimation, the newly combined company will now have a 6.64% market share in the U.S. behind iTunes 40.6%, Anderson's 12.2% and Amazon's 8.6% shares.  Previously Alliance Entertainment was ranked No. 5 and Super D was ranked No. 11, but the merger will move them past the previous no. 4 Target, which had a 5.48% market share in 2012."
Super D Acquires Alliance Entertainment, Creating Second Largest US Music Wholesaler (Sources)
"Combining the best of both Alliance Entertainment and Super D int the world's largest retailer of music and video with our continued focus on service, selection, and technology creates enormous possibilities for the company as we approach $1 billion in annual sales," said Super D president, Jeff Walker, in a statement.
Ralph has coached Super D to find possibilities and translate them into explosive growth as Super D grew from a $48 million company in 2003 to a $142 million company 6 years later.  This unprecedented increase of 296% comes at a time when the overall entertainment industry is shrinking and digital sales are growing.  Super D continues to forge ahead as a frontrunner in the entertainment distribution and wholesale business known for its largest worldwide in-stock selection and best in class delivery systems.
Jeff Walker
President
Let's make your story the
NEXT SUCCESS STORY